With just one day to go before the official start to the 2011 World Series of Poker, many poker fans are scouring the web in search of last-minute tips to fill their rosters. This year's draft is particularly tricky as many veteran players native to the U.S. are still feeling the after-effects of Black Friday and are unsure of their playing schedules.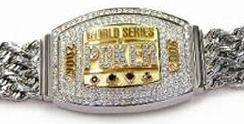 I have to admit I enjoy playing the annual WSOP fantasy draft on Full Tilt and if truth be told, it has great promotional value since with a little luck, you can earn a substantial amount of Full Tilt Points usable for either their online store, or various satellites to big events. I haven't had huge success in the past, but I usually come out with at least 2500 points for the minimal work I had put into it, not to mention a slew of freeroll entries. This year, however, I've put much more of an effort into research to avoid the silly mistakes I made last year.
Now, I certainly don't consider myself a professional bookmaker and in reality, I'm only a casual poker player, but I did have one thing going for me when I chose my fantasy draft picks this year: I did my homework. I thought it would be worthwhile then to share some of the pearls of wisdom I have gathered while securing my choices.
First off, if you haven't played the Full Tilt Fantasy WSOP before, here is how you can participate:
If you do not have a Full Tilt Poker account, click here to get started.
Load up your Full Tilt Poker client and click on the red cashier button at the top right hand corner
At the bottom of the Cashier box is a blue button entitled: My Promotions – click this
Your browser will now load up the promotions page – click the link labeled FANTASY WSOP 2011
Click on the pictured link on the left hand side labeled Go To Fantasy Poker
NOTE: These tips are for the casual fantasy draft player and will assume you will be predominantly choosing one team for the entire duration of the contest. Obviously, the better strategy would be to pick specialists for all 58 events but the amount of research involved is so enormous, I'll be concentrating on one solid team with a few minor edits for specific high profile events.
Pro Schedules
If you read just one tip to help you out, this will be a gold mine. Although I personally cannot stand the mindless chatter it creates, Twitter is an essential source for finding which players plan on attending WSOP and how many events they'll play.
The number one mistake that the majority of fantasy pool players will make this year is choosing Eric Seidel (edit: Well, I guess now Ivey trumps Seidel in that department). "What?" you say. "How can I not pick the most profitable tournament player this year?" The answer is simple: Seidel already made a tweet saying his playing schedule will be drastically reduced and even recommends not to pick him. Over the course of 58 events, Seidel is not a good value. Instead, I would add him to specific events, like the Main Event, High Roller and The Poker Player's Championship.
To help you start, here's a list of recent tweet's from various Full Tilt Pros:
Barry Boatman tweeted: My probable events 22, 28, 31, 34, 36, 39, 43, 45, 48, 50, 51, 54, 57, 58
Stephan Rapp: Playing events 10, 12, 14, 15, 17, 19, 20, 23, 26, 27, 29, 31, 32, 34
Taylor Caby tweeted:  "WSOP plans ~set. Vegas Jun 1-8, Jun 27-Jul 8."
Rob Hollink's list of events: 3, 4, 6, 9, 12-15, 17-20, 22-24, 27-29, 31,32, 35, 36, 38, 39, 41-44, 47-52 & 56-58
Erik Seidel "Plz don't pick me for any fantasy pools. I am not playing full sched + will be mostly playing my worst games"
Jonathan Karamalikis: "I'll be playing practically all of the 1500′s and some of the 5ks (all no limit holdem events)"
Melanie Weisner is playing all the 2500 and under NLHE events, possibly the 2 5ks as well, and the main event.
Alessio Isaia has confirmed that he will be playing nearly every event this year.
James Akenhead's list of events: 4, 7, 8, 10, 12, 13, 15, 18, 20, 22, 24, 26, 28, 31, 32, 34-36, 38-40, 42, 43, 45, 46, 48, 50, 54, 56, 58
Lee Watkinson intends to play 3,7-10,12,13,15,22,24,26,31,35,39,42,50,51,57 and Main
Simon Watt's schedule of events: 26, 28, 32, 34, 36, 38, 40, 43, 45, 48, 50, 54,56 & Main
Barny Boatman's probable events: 22,28,31,34,36,39,43,45,48,50,51,54,57,58