It is that time of the year again! The biggest tournament series of the year is no underway in Las Vegas at the Rio All-Suites. That's right! The World Series of Poker is back and bigger then ever. 61 events will be played over 50 days of intense action. There are several changes this year, including the addition of the richest tournament ever played: a $1,000,000 charity tournament called the Big One for BIG DROP. Even though 11.1% of the prizepool will be going to the ONE DROP charity, this tournament will guarantee that Jamie Gold's record for largest prize, set by winning the 2006 Main Event for $12 million dollars, will be broken.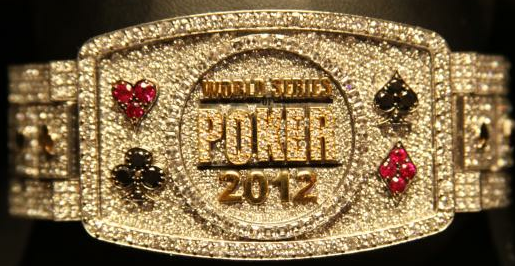 The November Nine will not technically exist this year – but that is only because of the U.S elections that are being held in early November. Instead, they will play out the final table in late October. The final nine players will play down to two on Sunday, October 28th and the heads-up match will be contested on Tuesday, October 30th.
Another big change is the addition of 92 tables being added to the tournament area in the Brasilia Ballroom. This means that there will only be three starting days for the Main Event, instead of the previous four. These changes were made to make the event more user-friendly for everyday players, meaning players will not have to take so much time off work in order to play. The structure of the tournament will remain the same, with two-hour levels and 30,000 starting chips. Five levels will be played each day with 20-minute breaks in between and a 90-minute dinner break after the third level of the day.
Here is a quick breakdown of new bracelet events to the 2012 WSOP followed by the official schedule:
Event #3: $3k Heads-Up No-Limit Hold'em / Pot-Limit Omaha (this event will have a 512 player cap and will alternate between games every 20 min.)
Event #6: $5k No-Limit Hold'em Mixed Max (this event will start with 9-handed tables on Day 1, 6-handed tables on Day 2, and then heads-up once the field reaches 32 players)
Event #28: $2.5k No-Limit Hold'em – Four handed
Event #49: $1.5k Ante Only No-Limit Hold'em (this event has no blinds and instead, each player will post and ante every hand)
Event #55: $1M Big One for BIG DROP (11.1% goes to charity)
2012 World Series of Poker Tournament Schedule
May 27 – Event #1: Casino Employees No-Limit Hold'em – $500 – 2-Day Event
May 28 – Event #2: No-Limit Hold'em – $1,500 – 3-Day Event
May 29 – Event #3: Heads Up No-Limit Hold'em / Pot-Limit Omaha (512 player max) – $3,000 – 3-Day Event
May 29 – Event #4: Seven Card Stud Hi-Low 8 or Better – $1,500 – 3-Day Event
May 30 – Event #5: Pot-Limit Hold'em – $1,500 – 3-Day Event
May 31 – Event #6: No-Limit Hold'em Mixed Max – $5,000 – 4-Day Event
May 31 – Event #7: Seven Card Stud – $1,500 – 3-Day Event
June 1 – Event #8: Omaha Hi-Low Split-8 or Better – $1,500 – 3-Day Event
June 2 – Event #9A: No-Limit Hold'em Re-entry – $1,500 – 5-Day Event
June 3 – Event #9B: No-Limit Hold'em – $1,500 – 5-Day Event
June 3 – Event #10: Seven Card Stud – $5,000 – 3-Day Event
June 4 – Event #11: Pot-Limit Omaha – $1,500 – 3-Day Event
June 5 – Event #12: Heads Up No-Limit Hold'em (512 player max) – $10,000 – 4-Day Event
June 5 – Event #13: Limit Hold'em – $1,500 – 3-Day Event
June 6 – Event #14: No-Limit Hold'em Shootout (2,000 player max)  – $1,500 – 3-Day Event
June 6 – Event #15: Seven Card Stud Hi-Low Split-8 or Better – $5,000- 3-Day Event
June 7 – Event #16: No-Limit Hold'em / Six Handed – $1,500 – 3-Day Event
June 8 – Event #17: Pot-Limit Hold'em – $10,000 – 3-Day Event
June 8 – Event #18: Seven Card Razz – $2,500 – 3-Day Event
June 9 – Event #19: No-Limit Hold'em – $1,500 – 3-Day Event
June 9 – Event #20: Limit Hold'em – $5,000 – 3-Day Event
June 10 – Event #21: No-Limit Hold'em – $1,000 – 3-Day Event
June 10 – Event #22: 2-7 Triple Draw Lowball (Limit)  – $2,500 – 3-Day Event
June 11 – Event #23: No-Limit Hold'em / Six Handed – $3,000 – 3-Day Event
June 11 – Event #24: Omaha Hi-Low Split-8 or Better – $5,000 – 3-Day Event
June 12 – Event #25: Limit Hold'em Shootout – $1,500 – 3-Day Event
June 12 – Event #26: Pot-Limit Omaha – $3,000 – 3-Day Event
June 13 – Event #27: H.O.R.S.E. – $1,500 – 3-Day Event
June 14 – Event #28: No-Limit Hold'em / Four Handed – $2,500 – 3-Day Event
June 15 – Event #29: Seniors No-Limit Hold'em Championship – $1,000 – 3-Day Event
June 15 – Event #30: 2-7 Draw Lowball (No-Limit) – $1,500 – 3-Day Event
June 16 – Event #31: No-Limit Hold'em – $1,500 – 3-Day Event
June 16 – Event #32: H.O.R.S.E. – $10,000 – 3-Day Event
June 17 – Event #33: No-Limit Hold'em – $1,000 – 3-Day Event
June 18 – Event #34: Pot-Limit Omaha / Six Handed – $5,000 – 3-Day Event
June 18 – Event #35: Mixed Hold'em (Limit/No-Limit) – $2,500 – 3-Day Event
June 19 – Event #36: No-Limit Hold'em Shootout (2,000 player max)  – $3,000 – 3-Day Event
June 19 – Event #37: Eight Game Mix – $2,500 – 3-Day Event
June 20 – Event #38: No-Limit Hold'em – $1,500 – 3-Day Event
June 21 – Event #39: Pot-Limit Omaha – $10,000 – 3-Day Event
June 21 – Event #40: Limit Hold'em / Six-Handed – $2,500 – 3-Day Event
June 22 – Event #41: No-Limit Hold'em – $3,000 – 3-Day Event
June 22 – Event #42: Omaha/Seven Card Stud Hi-Low 8 or Better – $2,500 – 3-Day Event
June 23 – Event #43: No-Limit Hold'em – $1,500 – 3-Day Event
June 24 – Event #44: No-Limit Hold'em – $1,000 – 3-Day Event
June 24 – Event #45: The Poker Players Championship  – $50,000 – 5-Day Event
June 25 – Event #46: No-Limit Hold'em – $2,500 – 3-Day Event
June 26 – Event #47: Pot-Limit Omaha Hi-Low Split-8 or Better – $1,500 – 3-Day Event
June 26 – Event #48: Limit Hold'em – $3,000 – 3-Day Event
June 27 – Event #49: Ante Only No-Limit Hold'em – $1,500 – 3-Day Event
June 28 – Event #50: No-Limit Hold'em – $5,000 – 3-Day Event
June 29 – Event #51: Ladies No-Limit Hold'em Championship  – $1,000 – 3-Day Event
June 29 – Event #52: 10-Game Mix / Six Handed – $2,500 – 3-Day Event
June 30 – Doubles No-Limit Hold'em (Non-bracelet event) – $560 – 1-Day Event
June 30 – Event #53: No-Limit Hold'em – $1,500 – 3-Day Event
July 1 – Event #54: No-Limit Hold'em – $1,000 – 3-Day Event
July 1 – Event #55: The Big One for One Drop – No-Limit Hold'em – $1,000,000 – 3-Day Event
July 2 – Event #56: No-Limit Hold'em – $1,500 – 3-Day Event
July 3 – Event #57: No-Limit Hold'em / Six Handed – $10,000 – 3-Day Event
July 3 – Event #58: Pot-Limit Omaha Hi-Low Split-8 or Better – $3,000 – 3-Day Event
July 4 – Event #59A: No-Limit Hold'em – $1,000 – 4-Day Event
July 5 – Event #59B: No-Limit Hold'em – $1,000 – 4-Day Event
July 5 – Event #60: 2-7 Draw Lowball (No-Limit) – $10,000 – 3-Day Event
July 6 – Bracelet Bounty No-Limit Hold'em (Non-bracelet event) – $560 – 1-Day Event
July 7 – Event #61A: No-Limit Hold'em Main Event  – $10,000 – 10-Day Event
July 8 – Event #61B: No-Limit Hold'em Main Event – $10,000 – 10-Day Event
July 9 – Event #61C: No-Limit Hold'em Main Event – $10,000 – 10-Day Event